ZL7/K5WE Chatham Island DXpedition
September 2022

Operator: Jeff Martin – K5WE
Would you like to donate in support of the Chatham Island DXpedition?

Click the button to donate. Tnx!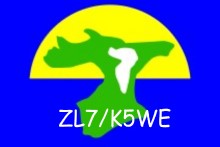 Jeff, K5WE, will be active as ZL7/K5WE from Kaingaroa, Chatham Island beginning 9 September through 21 September, 2022. He will operate all bands 160 through 10 meters using the CW, FT8, FT4, SSB, and RTTY modes. The settlement of Kaingaroa is on the NE coast of the island. The Grid Square is AE16UG, IOTA # is OC-038, CQ Zone is 32, and the ITU Zone is 60. Depending upon a reliable internet connection, logs will be uploaded to Clublog daily and Clublog Livestream will be active. Logs will be uploaded to LoTW upon returning home. Periodic updates will occur on this webpage. At the time of this writing, the Chatham Islands entity was number 81 on the Clublog most needed list…
News & Updates
27May22 – Website online. DXpedition announced.