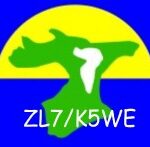 Operating Statistics of the ZL7/K5WE DXpedition
---
As of 1Oct2022 and following a few corrections and additions, there are a total of 18, 444 QSOs in the ZL7/K5WE primary log, including dupes. The Clublog count, which does not include dupes is 18,305 QSOs.
The first QSO was made with OH4SS at 07:37Z on 9Sep2022 and the last QSO was made with WB0O at 00:22Z on 21Sep2022.
Total operating time was 11 days 16 hours 45 minutes, or 11.7 days.
18,305 QSOs / 11.7 days = 1,565 QSOs per day.
ZL7/K5WE QSOs by Continent
| Continent | Total QSOs | % |
| --- | --- | --- |
| Africa | 52 | 0.3 |
| Asia | 5136 | 28.1 |
| Europe | 8271 | 45.2 |
| North America | 4190 | 22.9 |
| Oceania | 423 | 2.3 |
| South America | 233 | 1.3 |
| Totals | 18305 | 100 |
ZL7/K5WE Daily QSO Count
| Date | Total QSOs |
| --- | --- |
| 21-09-2022 | 23 |
| 20-09-2022 | 1568 |
| 19-09-2022 | 1730 |
| 18-09-2022 | 1851 |
| 17-09-2022 | 1268 |
| 16-09-2022 | 1493 |
| 15-09-2022 | 1806 |
| 14-09-2022 | 1507 |
| 13-09-2022 | 1869 |
| 12/9/2022 | 2235 |
| 11/9/2022 | 1277 |
| 10/9/2022 | 1214 |
| 9/9/2022 | 464 |
| Total QSOs | 18305 |
ZL7/K5WE Band/Mode QSOs
| Band | FT8 | CW | FT4 | SSB | Total | Total % |
| --- | --- | --- | --- | --- | --- | --- |
| 160 | 4 | 0 | 0 | 0 | 4 | 0.00% |
| 80 | 109 | 0 | 0 | 0 | 109 | 0.60% |
| 60 | 462 | 0 | 0 | 0 | 462 | 2.50% |
| 40 | 1041 | 835 | 0 | 0 | 1876 | 10.20% |
| 30 | 3055 | 1238 | 169 | 0 | 4462 | 24.40% |
| 20 | 3506 | 1150 | 89 | 303 | 5048 | 27.60% |
| 17 | 1128 | 643 | 0 | 20 | 1791 | 9.80% |
| 15 | 1674 | 611 | 0 | 0 | 2285 | 12.50% |
| 12 | 1016 | 373 | 0 | 0 | 1389 | 7.60% |
| 10 | 622 | 257 | 0 | 0 | 879 | 4.80% |
| Totals | 12617 | 5107 | 258 | 323 | 18305 | 100.00% |
---